Awards & Testimonials
Since the first release in 2000, Advanced JPEG Compressor was reviewed and rated by many popular software websites and magazines. Later we have created the following products, based on our JPEG Compressor's platform: PDF Compressor, Video Compressor, Audio Compressor. They were awarded too, so we keep all awards for these products in one place. Many of software catalogs have been closed since that time, but our software keep to be perfectly functioning.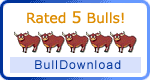 5 COWS !!!!! - TuCows' highest possible rating



Lockergnome Award


We receive very positive feedback from users of Advanced JPEG Compressor. What they say:
"Excellent software - keep up the good work! Regards" Bob Harrison
"Sincere thanks for your support. I can only say again that you have a wonderful program - and fantastic support. I have recommended JPEG Compressor to many friends. Sincerely Robin French (Miss)"
"My compliments to your excellent programm, which I have purchased yesterday. I have for some time checked out so-called similar programms, and am very, very happy to have found AJC before buying another one. With my best regards and thanks for your product" Gabrielle Zacek
"your program is invaluable to me in my work, thank you!!!" Scott Smith
"Hey all; I just wanted you to know that when you just did jpeg compression, I thought that the money I spent on buying your software was one of the best software purchases I ever made." Adam
"Hi Folks, First let me say your product, Advanced JPEG Compressor, is the best. I just wish you made it for Macintosh. I have to have 2 computers on my desktop just so I can use your program and still work on my Mac. :) " Paul Minder
"I just wanted to tell you that it took me 5 minutes of trial time and fiddling with one single image to decide to register JPEG Compressor! IT'S A WINNER! Thumbs up!" Joao
"I have just purchased a copy of Advanced JPG Compressor V4.1 and have been so delighted I just had to write and tell you. Thank you so much for writing such a brilliant product." Brendan Tuppack
"Wow! Better/faster than Photoshop. And more hands on "right there" controls! Best $25 I've ever spent. What other progs are you hiding in that little workshop of yours!?!?! Best of wishes to brilliant programmers!" Brian